associating bvh files with bvhacker

As of verison 1.6.1.0 it is possible to open a bvh file with bvhacker by simply double clicking it. This is done by associating the bvh file type with bvhacker. Here's how to set it up: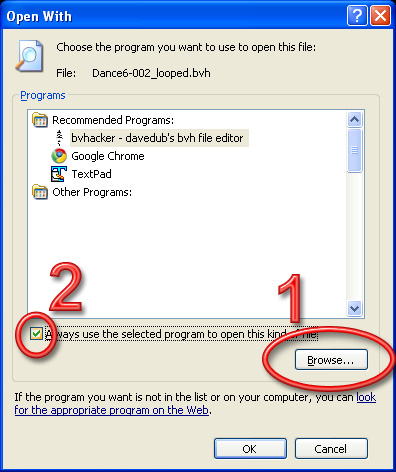 Using any bvh file, right click it and chose 'Open With' and then 'Chose program' from the context menu.
~ The 'Open With' dialog pops up.
Click the Browse button. (1)
~ A file choser dialoag pops up showing the contents of your 'Program files' directory.
Navigate to the folder called 'bvhacker', open it, and select 'bvhacker.exe'
On the 'Open With' dialog, make sure the 'Always use the selected program to open this kind of file' check box is ticked. (2)
Click 'OK'
That's it! Now if you double click any bvh file, it will open in bvhacker.
Note: you can also open bvh files by dragging and dropping them onto the bvhacker interface.